If you're going to bikepack, then you'll need some luggage. Once upon a time, your options were somewhat limited but over the years they've steadily grown and now they're at a point where they feel almost infinite. While you might choose to festoon your bike with a full set of matching custom luggage, you might also choose to use a rucksack or just put all your gear in a co-op carrier bag and hang it from your handlebars. However you decide to approach the task of carrying kit, you will probably find that over time you'll develop your own likes and dislikes when it comes luggage and packing.
My own pet dislike (hate's probably a bit strong) is multiple small capacity bags placed on all and every available tube, bar and bracket. I think it makes a bike appear cluttered and as though packed after a winning streak on the WI tombola but aesthetics aside, I also think that three one litre bags probably weigh more than a single three litre bag does. Multiple small bags have a greater potential to rub paint off and the straps can interfere with one another making the bags more prone to move or wobble and lastly, three smaller bags will often cost more than twice what a single larger one will.
You don't have to agree with any of that but if you did find yourself nodding in agreement, then you might be interested in Custom Merit Gear's 'Popcorn bags'. The Popcorn bags are a similar shape to the boxes that popcorn is generally served in, which unsurprisingly accounts for the name. Although primarily designed as a bar mounted 'feed bag', there's no reason why they can't be mounted somewhere else. With a capacity of two litres, they're noticeably more spacious than most bags intended for the purpose, yet they don't appear to invoke any additional knee / bag interference than something with less capacity.
They're attached to the bike by way of hook and loop straps (3 included) and there's a total of twenty one different daisy-chain loops on the outside of each bag, so you should have little problem getting it sited exactly where you want it. Inside, you'll find a removable 'free-floating' divider; it's held at the base via an adjustable shockcord which can also be secured to the fork crown should you want to adopt a belt and braces approach to attachment. The divider acts as a baffle and prevents the contents from moving when only partially full but doesn't dictate what you can put inside or where you can put it. The divider can also be turned allowing the inside to be separated either across its length or width.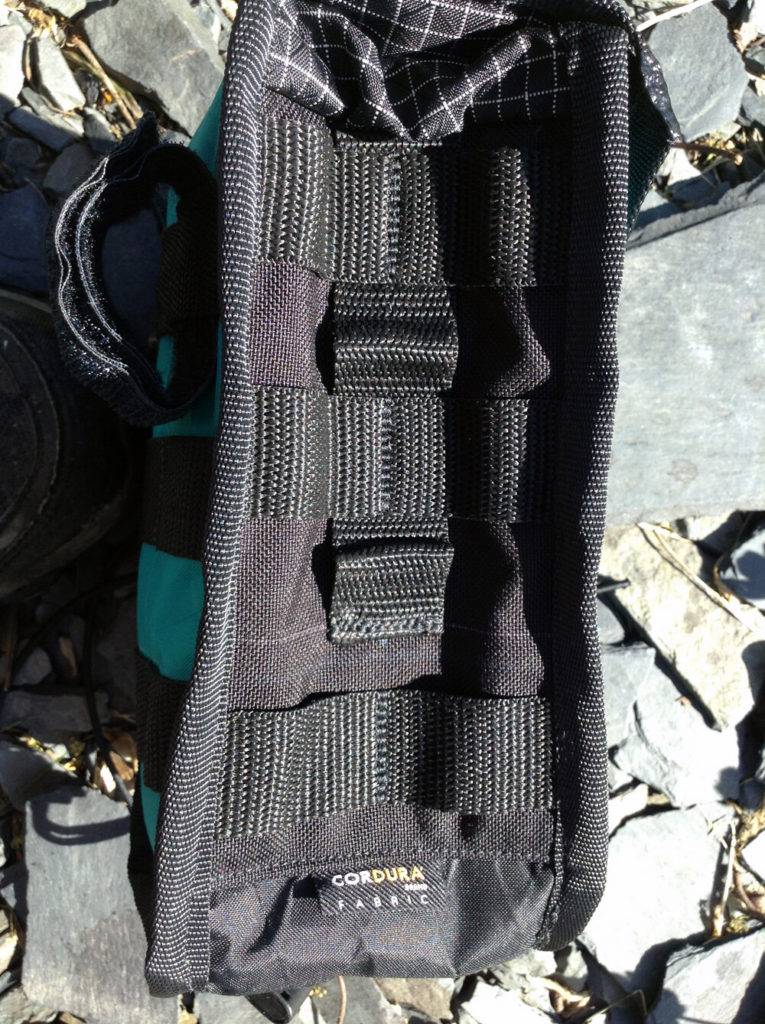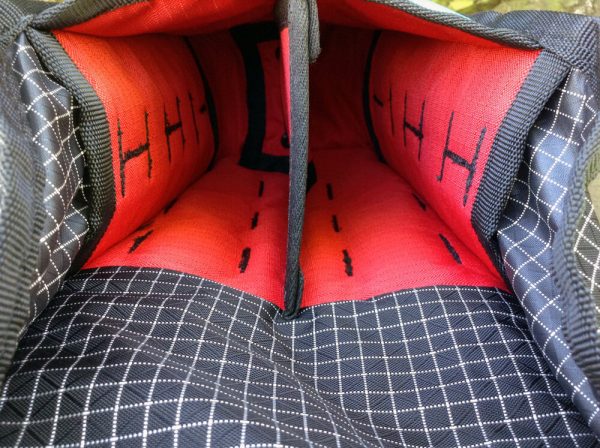 The contents are accessed by what at first appears to be a simple flap but the way it's sewn means that it folds in on itself when closed producing a good barrier to whatever's happening outside. A Fidlock magnetic clasp keeps the lid securely in place but can be undone (or closed back up) with a single hand quickly and easily. The walls of the bag are lightly padded which helps maintain its shape but it's not enough to prevent it from being squashed down or compressed when not full – incidentally, there are some loops other than the daisy-chains on the side of the bag that I'm sure could be utilised for that purpose.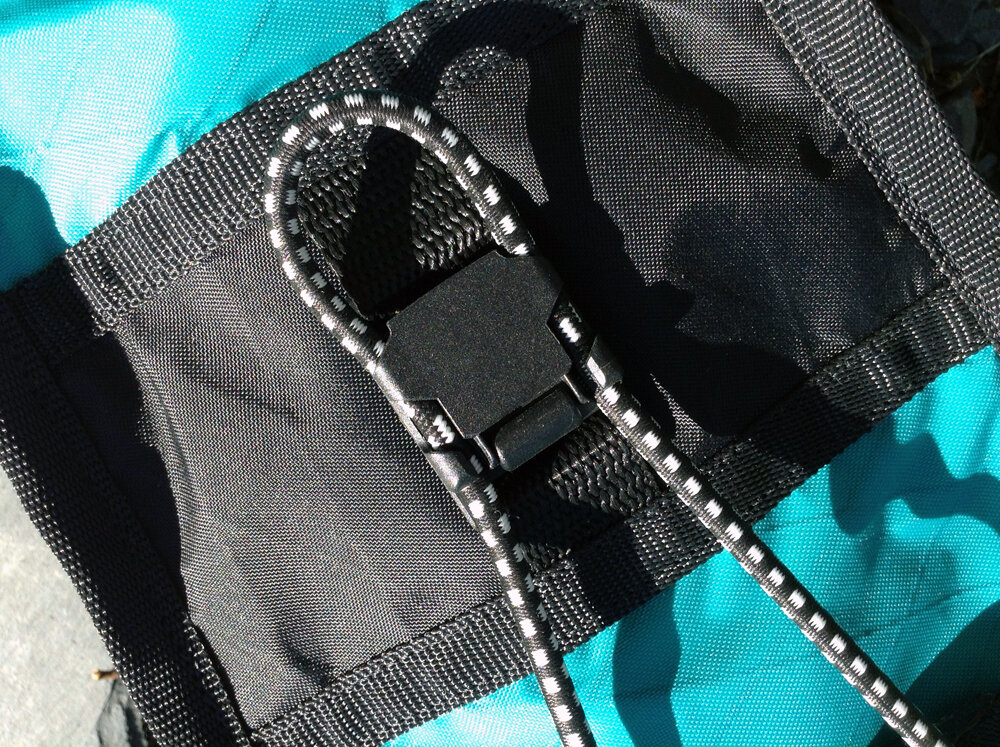 Black is always a popular choice for bikepacking luggage but Merit like to give you options. As an unstylish colour-blind man, those options are perhaps somewhat wasted on me. However, when you order a bag, you'll be able to specify which panels you'd like to be whatever colour you decide from the very long list provided. If you wish, you can have up to four different colours on the same bag and that is a lot of combinations. Personally, I took the easy way out and left it up to Mickey of Merit who decided on something subtle to compliment my Stooge, although it also wouldn't look out of place attached to something else.
Upon attaching the bag to my bars, I was initially concerned that it might limit steering-lock but those thoughts were quickly dismissed when I realised that, in use the bag tends to lie in line with the angle of the steering head and so is held further from the frame than you might imagine. It certainly appears to be no more of a concern than any other bag fitted in a similar position – even something considerably smaller. Although bikepacking luggage, the Popcorn bags would in my opinion, also make ideal day-ride companions. There's certainly enough capacity for all the essentials and some not so essentials and the handlebars seems a much more convenient location for such things than under the saddle. Once any notion of returning home for tea has left, then I'd personally also consider running two Popcorn bags in front of the bars and foregoing a front dry bag altogether; the caveat here is that (a) I tend to take very little and (b) perhaps I'd only consider it during the more summery months. I realise some people may think that particular set-up is beyond the realm of feasibility but if like me, you only carry what you need rather than what you want, it could provide a very neat and compact system.
The quality of manufacture is as good as I've seen anywhere. There's no stray threads or wonky stitch lines and the materials and fittings are all high quality. Although based in the Netherlands, communication is swift and in a market that's seemingly overflowing, it nice to see something a little different on offer. If a 'Popcorn' bag appears to suit your needs, then I really don't think you'll be disappointed.
Written by Stuart Wright, Bear Bones Bikepacking